Sleep Tight: The Best Overnight Diapers for Boys
Posted by MAJALIWA BASS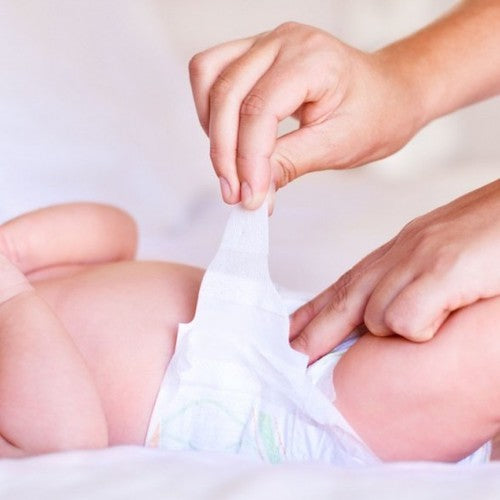 Say goodbye to leaky diapers with our top picks for the most absorbent and comfortable overnight diapers 
Are you a parent struggling to find the perfect overnight disposable diaper for your little boy? Look no further! Over the past few years, I've diapered 4 kiddos (2 boys and 2 girls) - and that came with a lot of mistakes, leaks, and lessons learned. But my mistakes are your gain and I'm here to share my findings with you.  
To stop a leaky diaper, pay attention to how much pee it can hold. Boys can put out anywhere from 22 to 30 ounces a night. Going up a size can help, but the key is to choose a diaper that can hold up to what your little guy can put out.
Use the chart below to find out how much your baby pees at night.
Now that you know what your little one is putting out, check out my recommended list below of the best disposable nighttime diapers for your little champ.
My Top 3 Recommended Nighttime Disposable Diapers for Boys
1. Best Overall - Target Up & Up (size 6)
This diaper holds up to 28 ounces which is enough for a heavy wetter. One pack of diapers will last 2 months and will cost roughly 28 cents per day. So essentially, you're paying 1 penny per ounce - not bad.
2. Best Value - Luvs (size 6)
This diaper holds up 20 ounces, which is enough for most babies. However, I would avoid this if you have a boy that weighs over 20 pounds. The bonus is that one pack lasts 4 months, bringing the cost to roughly $10 a month.
3. Most Absorbent - Huggies Overnights (size 6) 
Of all the disposable diapers on the market, this diaper is the most absorbent, holding up to a whopping 34 ounces (just over 4 cups of pee). As such, it is the priciest of the diapers I've tried, but anything that saves you multiple nighttime trips to wash and change sheets and breaking your little one's sleep is worth it in my opinion.  The downside is that one pack only lasts 2 months.
4. Runner Up - Pampers Baby Dry (size 6)
A close runner-up to Luvs diapers is Pampers Baby Dry. They hold 22 ounces (just 2 ounces more than Luvs) and they're only 5 cents more per diaper than Luvs. One pack lasts 3 months. If finding Luvs is difficult, this is a good back-up diaper to grab.
Bonus Tip: A Green Alternative
When I started diapering my first kid (a boy) he started leaking through every diaper imaginable at around 6 months.  It was frustrating. It woke him up at night and it was hard getting him back to sleep. Not to mention, there's nothing worse than trying to change a baby and a crib sheet at 3 AM.  And the idea of my son lying in a pool of his own pee really made me angry. Disposables worked for me, but my family only had one income so diapers quickly got expensive for us. So I set out on a mission to find a diaper that was affordable and wouldn't leak. My search eventually led me to make my own diaper, and later, my own diaper company - Pooters. My Hemp Fitted diaper holds up to 31 ounces. It's made from hemp fabric which is not only earth friendly, but crazy absorbent. The best part is that it lasts a really long time. Years to be exact. The same diaper that worked for him, also worked for my 2nd, 3rd, and ultimately my 4th kiddo. But my story isn't unique. Many of the parents that buy my diaper, use disposable diapers during the day, but have come to only trust my diaper at night - saving a ton of money and tears in the process.  If you're sick of spending money on disposables, I invite you to checkout my best-selling diaper. It's guaranteed not to leak (seriously, you can read all about my 30 Day Happiness Guarantee here).  And if for any reason you are not happy with it, you can return it.
BUY THE POOTERS SUPER SOAKER INSTEAD!
Reviews (1 comment)
Collection 2019
Sale 70% Off
Title for image