The shocking truth about diaper rash cream and your cloth diapers
Posted by MAJALIWA BASS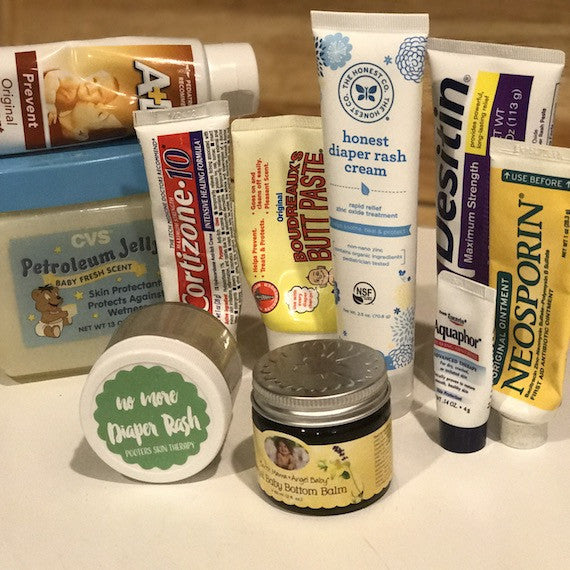 The Bottom (pun-intended) Line:
The new word on the street is that you can use whatever rash cream you want and it will wash out of your cloth diapers. This is partially true.  As long as your diaper is made from a natural material, this is good advice.  However, if you're using a diaper with a minky, fleece or stay-dry interior you should avoid the following:
Angel Baby Bottom Balm

A+D Ointment

Aquaphor
And you should use caution with the following rash creams because they can reduce absorbency:
Desitin

Honest

Vaseline (petroleum jelly)

Boudreaux's Butt Paste

Neosporin because they can reduce absorbency.
Click here to check out a full list of recommended rash creams.
---
I've been cloth diapering for over 8 years.  When I first started, one of the golden rules was to only use cloth diaper safe cream on your cloth diapers.  The belief was that non-cloth diaper safe creams would not wash out of your diapers and would cause them to repel. Recently, I've heard there's a new school of thought that you can use any rash cream with your cloth diapers and the cream will come out in the regular wash.  To be honest, I was skeptical about that advice so I decided to run a quick test of my own.  
Methodology:
I took the top 10 most often used rash creams and put them on a minky insert from Tots Bots* and a hemp insert from Pooters. I then put drops of water on top to see if the water absorbed or repelled. I then washed the inserts with other cloth diapers using my usual wash routine and Tide detergent.  I then tested them again for absorbency. The results are in the charts below.
Findings:
All rash creams washed completely out of the hemp insert.

Desitin left a permanent white stain on the hemp insert.

Angel Baby Bottom Balm, A+D Ointment and Aquaphor set more into the minky insert, did not wash out, and caused repelling.

Desitin, Honest, Vaseline, Boudreaux's Butt Paste, and Neosporin left a residue on the minky insert that reduced its absorbency. 
Minky Insert Results
Note: I used the insert from the Tots Bots Easy Fit V4.  According to their site, this insert is 55% bamboo / 45% cotton on one side and polyester minky fabric on the underside. The minky side was tested with the rash cream.
Legend: 
 = absorbed immediately into fabric
 = repelled at first, then absorbed
 = repelled
| | | |
| --- | --- | --- |
| Brand | Before Washing | After Washing |
| 1. Earth Mama Angel Baby Bottom Balm | | |
| 2. Desitin | | |
| 3. A+D Ointment | | |
| 4. Honest Company | | |
| 5. Pooters Skin Therapy | | |
| 6. Vaseline | | |
| 7. Boudreaux's Butt Paste | | |
| 8. Cortizone 10 | | |
| 9. Neosporin | | |
| 10. Aquaphor | |   |
Hemp Insert Results
Legend: 
 = absorbed immediately into fabric
 = repelled at first, then absorbed
 = repelled
| | | |
| --- | --- | --- |
| Brand | Before Washing | After Washing |
| 1. Earth Mama Angel Baby Bottom Balm | | |
| 2. Desitin | | |
| 3. A+D Ointment | | |
| 4. Honest Company | | |
| 5. Pooters Skin Therapy | | |
| 6. Vaseline | | |
| 7. Boudreaux's Butt Paste | | |
| 8. Cortizone 10 | | |
| 9. Neosporin | | |
| 10. Aquaphor | | |
Reviews (1 comment)
Collection 2019
Sale 70% Off
Title for image